Product Description
 Flexible Cast Iron HRC coupling with rubber element HRC110 HRC130 HRC150 HRC180 HRC230 HRC280 
Product Description
Datasheet for HRC Couplings
Size
Max bore
Dimensions
Mass
MM
INS
A
B
E
F
G
C
D
L
KG
HRC 70F-1008
25
1
69
60
31
25
25
20
23.5
65
1
HRC 90F-1108
28
1.18
85
70
32
30.5
30.5
19.5
23.5
69.5
1.78
HRC 110F-1610
42
1.58
112
100
45
45
45
18.5
26.5
82
5
HRC 130F-1610
42
2
130
105
50
50
53
18
26.5
89
5.46
HRC 150F-2012
50
2.12
150
115
62
62
60
23.5
33.5
107
7.11
HRC 180F-17BSW
60
3
180
125
77
77
73
34.5
46.5
142
16.6
HRC 230F-3571
75
4
225
155
99
99
85.5
39.5
52.5
164.5
26
HRC F-3625BSW
100
1
275
206
119
119
105.5
51
66.5
207.5
50
The HRC couplings is widely used. Its characteristic is simple construction, safe and reliable in use and easy to install. Maintenance is virtually elimated and no lubricant is required in the running term. These couplings are made of GG25 high grade cast iron and phosphate for the surface to ensure strength for safe running under rated conditions.
1. Maintenance,acturally HRC coupling doesn't need maintenance.
2. Ecvironmental, elastic components make HRC coupling applies to a variety of working conditions.
3. Reliable transmission, in case of elastic component is damaged, the dog segment wichcasted siamesedly still keep the transmission processing reliably.
4. Economic, HRC couplings have already been made of optimization design,which make transmission power match the transmission shaft diameter.
5. Good recovery capacity, elastic components can reduce the load at the CHINAMFG moments, and the deviation is a major consideration when designing.
6. Adaptability of misalignment, HRC can coupling contains parallel shift, angle shift and axis shift which happen some times.
Detailed Photos
Product Parameters
MIGHTY can produce full series of HRC couplings: HRC 70, HRC 90, HRC 110, HRC 130, HRC 150, HRC 180, HRC 230, HRC 280. 
Material: cast iron GG25; Bore type: pilot or taper bore for set screw/bearing/keyway/taper bush; Surface finish: phosphate coated.
Packaging & Shipping
Package:  Standard suitable package / Pallet or container
                  Polybag inside export carton outside, blister and Tape and reel package available.
                  If customers have specific requirements for the packaging, we will gladly accommodate 
Shipping:  10-20working days ofter payment receipt comfirmed (based on actual quantity)  Packing standard export packing or according to customers demand   
                  Professional goods shipping  forwarde
Company Profile
ZheJiang Mighty Machinery Co., Ltd. specializes in manufacturing Mechanical Power Transmission Products.
We Mighty is the division/branch of SCMC Group, which is a wholly state-owned company, established in 1980.
About Mighty:
-3 manufacturing factories, we have 5 technical staff, our FTY have strong capacity for design and process design, and more than 70 workers and double shift eveyday.
-Large quality of various material purchase and stock in warhouse which ensure the low cost for the material and production in time.
-Strick quality control are apply in the whole prodution. we have incoming inspection,process inspection and final production inspection which can ensure the perfect of the goods quality.
-14 years of machining experience. Long time cooperate with the Global Buyer, make us easy to understand the csutomer and handle the export. MIGHTY's products are mainly exported to Europe, America and the Middle East market. With the top-ranking management, professional technical support and abundant export experience, MIGHTY has established lasting and stable business partnership with many world famous companies and has got good reputation from CHINAMFG customers in international sales.
FAQ
Q: Are you trading company or manufacturer ?
A: We are factory, also do trading company business. Because our company do export 36years, having our own factories, also cooperated with other many factories.
Q:What's the MOQ?
A:We have not a clear limit,1 or 2pcs is available.
Q: How long is your delivery time?
A: 3-5 days via DHL, TNT, UPS, FEDEX. 
Diffirent based on the diffirent countries of customers via CHINAMFG shipping.
Q: Do you provide samples ? is it free or extra ?
A:yes,we provide free samples for checking the build quality and real performance of our products,the freight need to be covered by customer.
Q: What is your terms of payment ?
A: T/T, Paypal, L/C, D/P, D/A, Western Union, etc., all decided by customer's requirements.
| | |
| --- | --- |
| Standard Or Nonstandard: | Standard |
| Structure: | Flexible |
| Material: | Cast Iron |
| Type: | Flexible Coupling |
| Quality Control: | 100% Inspection |
| Certification: | ISO9001:2008 |
Samples:

US$ 17.8/Piece

1 Piece(Min.Order)

|
Request Sample
Customization:

Available

|

Customized Request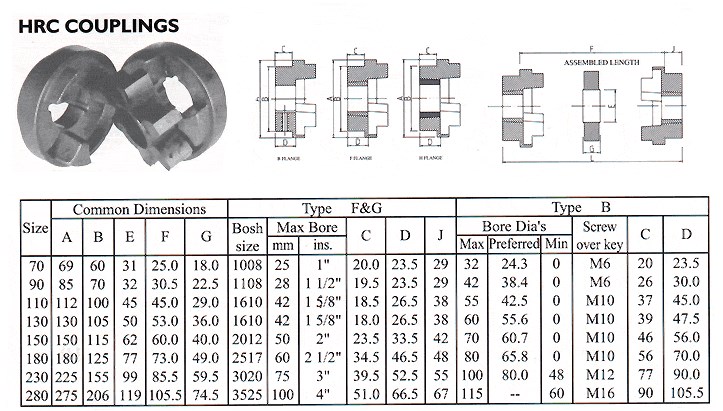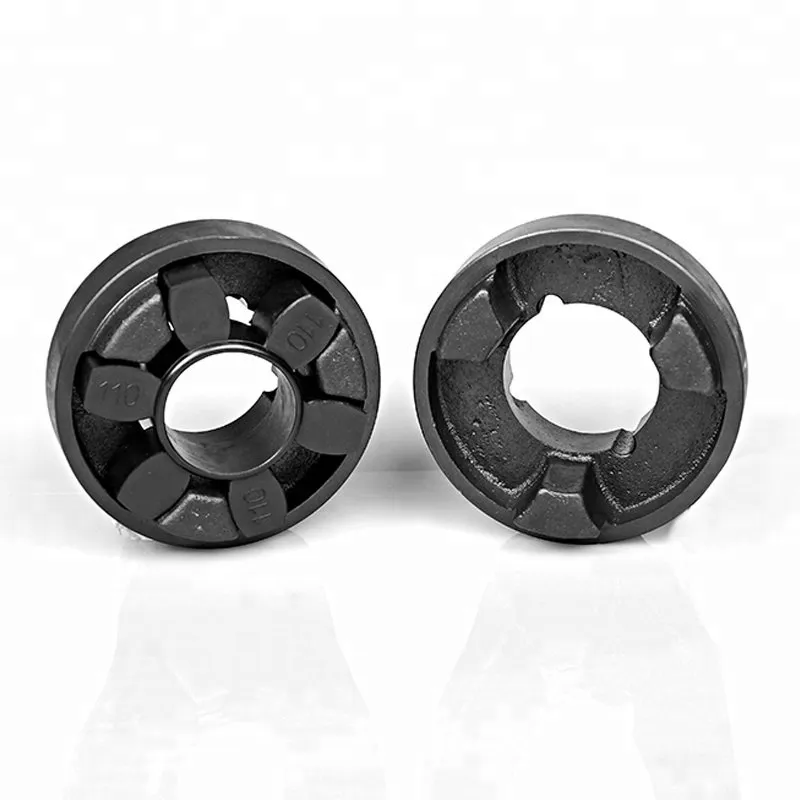 Can HRC Couplings Accommodate High Torque and High-Speed Applications?
HRC (Highly Resilient Coupling) couplings are designed to handle a wide range of torque and speed requirements, making them suitable for various industrial applications, including those involving high torque and high-speed conditions. Their ability to accommodate high torque and high-speed applications depends on several factors:
Coupling Size and Type: HRC couplings come in various sizes and types, each with its torque and speed ratings. Larger couplings with robust designs can handle higher torque and speed than smaller ones.
Material Composition: HRC couplings consist of a metal hub and a flexible elastomeric element. The material composition of the elastomer plays a significant role in determining the coupling's torque and speed capabilities.
Elastomer Properties: The elastomeric element in HRC couplings provides flexibility and damping. It should be selected based on its resilience, durability, and ability to withstand the intended torque and speed requirements.
Application Requirements: The coupling's torque and speed ratings must match or exceed the demands of the application. Factors such as the driven and driving equipment's power, load characteristics, and operational conditions should be considered.
Proper Installation: Correct installation, including accurate alignment and proper torqueing of the coupling, ensures optimal performance and minimizes the risk of premature failure in high torque and speed applications.
It's important to consult the manufacturer's specifications and guidelines to select the appropriate HRC coupling for a specific high torque and high-speed application. Using an undersized or unsuitable coupling can lead to premature wear, reduced efficiency, and potential safety hazards.
In summary, HRC couplings are well-suited for high torque and high-speed applications when properly selected, installed, and maintained. They offer the benefits of damping vibrations, shock absorption, and misalignment compensation while reliably transmitting power in demanding industrial settings.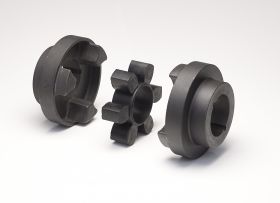 What Industries Commonly Use HRC Couplings for Power Transmission?
HRC (Highly Resilient Coupling) couplings are widely used in various industries for power transmission applications. Some of the common industries where HRC couplings are utilized include:
1. Manufacturing Industry: HRC couplings are extensively used in manufacturing plants for powering various machinery such as conveyor systems, pumps, compressors, fans, and machine tools. Their ability to dampen vibrations and accommodate misalignment makes them suitable for a range of manufacturing processes.
2. Petrochemical Industry: The petrochemical industry often employs HRC couplings in pumps, blowers, and agitators used for processing and transporting various chemicals and petrochemical products. These couplings help ensure smooth power transmission and protect equipment from shocks and vibrations.
3. Mining Industry: In the mining sector, HRC couplings are used in crushers, mills, conveyor belts, and other heavy-duty equipment. They are chosen for their durability and ability to handle high torque loads, which are common in mining operations.
4. Water and Wastewater Treatment: Water treatment plants and wastewater facilities utilize HRC couplings in pumps, mixers, and aerators to efficiently move and treat water and sewage. The couplings' shock absorption capability helps reduce wear and tear on the equipment.
5. Power Generation: Power plants, both conventional and renewable, often use HRC couplings in generators, turbines, cooling tower fans, and other critical equipment. The couplings' ability to handle high torque and dampen vibrations is beneficial in power generation applications.
6. Paper and Pulp Industry: In paper mills and pulp processing facilities, HRC couplings are employed in various stages of the manufacturing process, including pumps, agitators, and roll drives. They contribute to efficient power transmission and minimize downtime.
7. Steel and Metal Industry: The steel and metal processing industry relies on HRC couplings in rolling mills, furnaces, and other heavy machinery. These couplings assist in transmitting power effectively while absorbing shock loads and accommodating misalignment.
These are just a few examples, and HRC couplings find applications in numerous other industries, such as food and beverage, automotive, chemical, and construction, where reliable power transmission and protection of connected equipment are essential.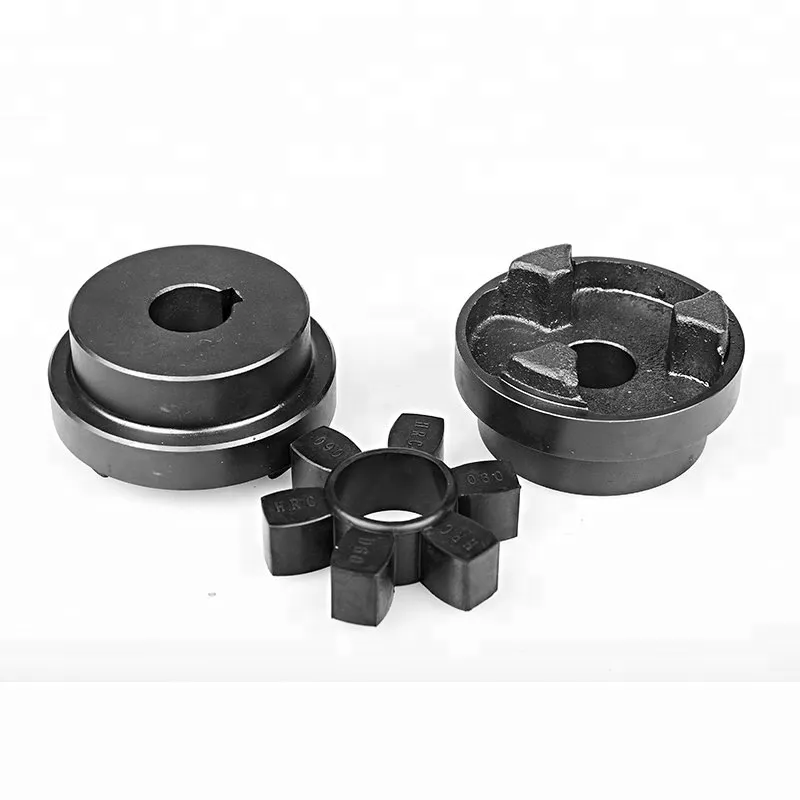 Explanation of Different Types of HRC Coupling Designs
1. HRC Standard Design: The standard or classic HRC coupling design consists of two cast iron hubs with a spider made of an elastomeric material, usually rubber. The hubs have teeth on the inner surface that mesh with the spider, providing torque transmission and flexibility. This design is commonly used in various industrial applications due to its simplicity and cost-effectiveness.
2. HRC Spacer Design: The HRC spacer coupling design is similar to the standard HRC design, but it includes a spacer between the two hubs. The spacer allows for more axial misalignment compensation and can accommodate longer distances between shafts. This design is suitable for applications where additional spacing between the shafts is necessary.
3. HRC Flywheel Design: The HRC flywheel coupling design is specifically used in applications where the coupling is mounted on a flywheel. The design incorporates a flywheel mounting hub on one side and a standard HRC hub on the other side. This allows the coupling to be easily connected to a flywheel for various engine-driven machinery.
4. HRC Taper Lock Design: The HRC taper lock coupling design includes taper lock bushings that enable easy installation and removal of the coupling from the shaft. The hubs have a tapered bore, and the taper lock bushings are inserted into the bore, providing a secure and precise connection to the shaft. This design is commonly used in applications that require frequent coupling removal and reassembly.
5. HRC Brake Drum Design: The HRC brake drum coupling design is used in applications where a brake is required. The design incorporates a brake drum on one of the hubs, allowing the coupling to serve both as a torque transmitting coupling and a brake drum for braking purposes. This design is commonly used in industrial machinery where controlled braking is necessary.
6. HRC Non-Spacer Design: The HRC non-spacer coupling design is similar to the standard HRC design but does not include a spacer. This design is suitable for applications where the shafts are relatively close together, and a spacer is not required for additional misalignment compensation.
7. HRC Stainless Steel Design: The HRC stainless steel coupling design is used in applications where corrosion resistance is essential. The hubs and spider are made of stainless steel, providing better resistance to rust and corrosion. This design is commonly used in industries such as food processing, marine, and pharmaceuticals.
8. HRC Pilot Bore Design: The HRC pilot bore coupling design is supplied with plain bore hubs, allowing the end-users to machine the bore to the required size. This design is beneficial when the shaft sizes are not standard or need to be customized for a specific application.
Overall, these different HRC coupling designs offer flexibility and versatility to suit various power transmission requirements across different industries.



editor by CX 2023-09-18